The overall design of the logo is inspired by 'Honeycomb' pattern embodying numerous philosophies and significances, particularly in development aspect.
The combination of L.P.L. letters in the logo is extracted from 'Lembaga Pembangunan Langkawi' (Langkawi Development Authority) which is then stylised in a firm graphic impression, signifying the agency as the bearer and heart of Langkawi Island's development.
The eagle and mainsail symbolise Langkawi's freedom as a duty-free tourism island and port. The eagle also implies the assertiveness of LADA as a mobilising body in developing Langkawi Island. The traditional house denotes the preservation of traditional and natural elements despite Langkawi's prospect of exponential growth.
GREEN, BLUE, and RED represent integrity and strength.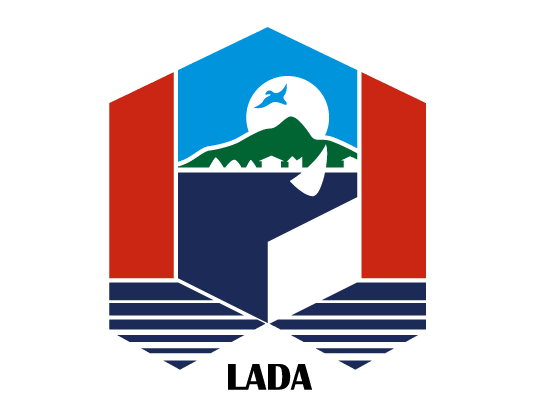 [VERSE 1]
Meniti Ombak Mengharungi Gelombang
Menuju Destinasi Indah Ciptaan Tuhan
Dengan Senyuman Tanda Kemesraan
Khidmat Kami Penuh Keikhlasan
[VERSE 2]
Seiring Dengan Era IT Terkini
LADA Berdiri Megah Di Persada Langkawi
Menabur Bakti Di Bumi Mahsuri
Tegap, Teguh Dan Berinovasi, Bervisi
[CHORUS]
Hijau, Biru Dan Merah Lambang Keutuhan
Kekuatan Menjadi Landasan Wawasan
Kami Teraju, Pendukung Dan Nadi
Pembangunan Pulau Langkawi
[OUTRO]
Perkhidmatan, Pelancongan
Darat Dan Lautan
Sosio Ekonomi Kami Rencanakan
Menjana Minda Masyarakat, Nusa Dan Bangsa
Repeat [CHORUS] and [OUTRO]
Repeat [CHORUS]
Kami Teraju, Pendukung Dan Nadi
Pembangunan Pulau Langkawi
Lyrics by: Azman bin Long